Master Hong Wei Guo Shares his Knowledge with JinLi Students
Friday, July 22, 2016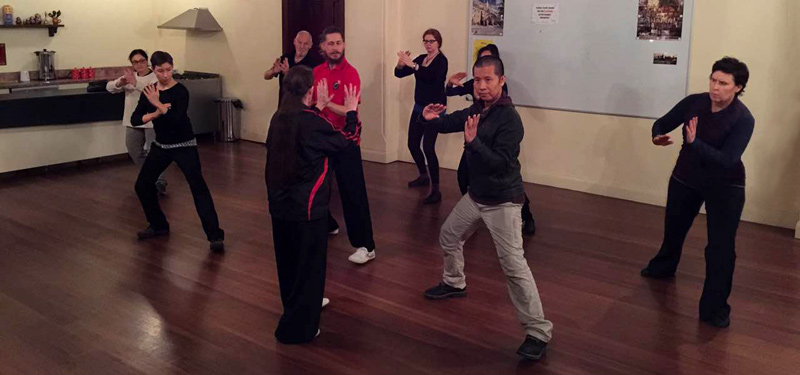 We were extremely excited and honoured to welcome Master Hong Wei Guo to our East St Kilda class recently where he gave the students a taste of training in the Hong Style of Taijiquan.
Hong Style Taijiquan is named after its founder Grandmaster Hong Junsheng, a 10th generation practitioner of Chen style taijiquan. Grandmaster Hong considered Master Hong Wei Guo as his adopted grandson as well as a disciple, so Master Hong spends the majority of his time travelling around the world sharing the knowledge imparted to him by Grandmaster Hong.
Grandmaster Hong Junsheng was the longest serving disciple of Grandmaster Chen Fake and trained uninterrupted with Chen for fifteen years. In 1956, Hong moved to Shandong Province where he undertook extensive research into Chen Style Taijiquan. He expressed his own understanding of the style through his teachings and writings. His theories and training principles are now known as the Practical Method for Chen-style taijiquan. The term "Practical Method" being used to emphasize the martial aspects of his research. Through the turmoil of the Cultural Revolution, Hong maintained his dedication to the enrichment of his art, working with his students to continually test his understanding of Chen style. As China opened up to the international community, Hong was rediscovered as an important linkage to this ancient Chinese martial arts tradition. Many of the practitioners who sought his knowledge referred to his methods as Hong Style Taijiquan although Hong never acknowledged the naming and insisted that he was merely a student of Chen Fake and was teaching according to his teacher's instructions.
Master Hong Wei Guo is definitely carrying on his master's wishes to share the knowledge of Chen Taijiquan throughout the world, and we are very much looking forward to seeing him in Melbourne again soon.
Please watch a CCTV Crossover Program featuring Master Hong Wei Guo HERE.