JinLi Medal at Oceania Kung Fu Wushu Championships 2018
Tuesday, October 23, 2018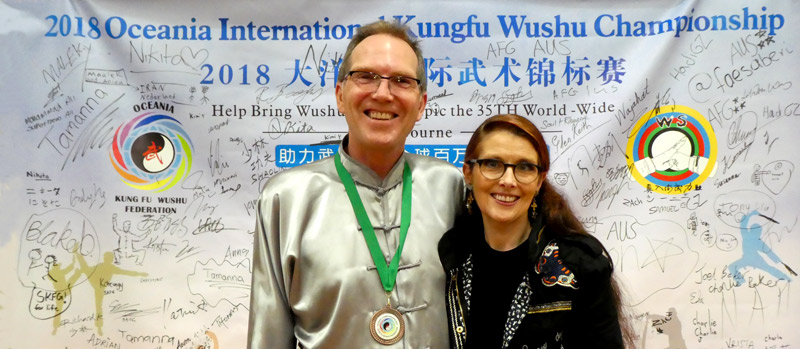 JinLi was extremely proud and honoured to see a special member of the JinLi family, Glenn Bermingham, receive a Bronze Medal at the recent 2018 Oceania Kung Fu Wushu Championships, held in Melbourne, Australia.
The Oceania Championships are held biennially in one of the International Wushu Federation's Oceanic member countries. Currently, the countries represented are Australia, New Zealand, Papua New Guinea, Vanuatu, Samoa, American Samoa, Solomon Islands, Kiribati, Norfolk Island, Fiji, Guam, New Caledonia, Tahiti, Tonga, Tokelau, Cook Islands and Nauru. This year, the Championships were hosted by Kung Fu Wushu Victoria (the Victorian division of Australia's IWUF member organisation, Kung Fu Wushu Australia) and comprised Kung Fu, Tai Chi, Wushu, Controlled Contact Sparring and Sanda Full Contact Sparring. They were also used as the selection trials for the 2019 national team to compete at the 2019 World Wushu Championships and 2019 World Kung Fu Championships.

Glenn said he was really pleased to be part of such an important event for Wushu in the Pacific region, "Seeing people from all over the region was fantastic, including having a chance to talk to some of the 40-plus New Zealanders who had made their way to Melbourne for the event".

We are not surprised with Glenn's achievement at this year's competition. Although he hasn't been studying Taiji for all that long (in relative terms), he trained so hard for the event, practising every day, even while he was overseas. He has learnt an incredible amount on this journey and will be the first to say that preparing for something like this is not about the actual competition but about the journey to get there. His success highlights what "JinLi" stands for:
JinLi means "to try one's best", "strength" and "Golden Carp". All of these concepts come together in the Chinese fable about little golden carp that would swim up the Yellow River. To continue their journey they had to get over a waterfall at Dragon Gate. Legend has it that those who tried hard, trained and practiced, leapt over the waterfall and were instantly transformed in to dragons. These dragons were known as fish-dragons or carp-dragons and signify endeavour and hard work. What does it mean? Simply, that no matter how small you are, if you really want something, with help and hard work, you too can become a dragon (successful).


So, here's to all of us "little golden fish" working hard to achieve our own personal goals and in the process becoming amazing fish-dragons.

Congratulations Glenn!